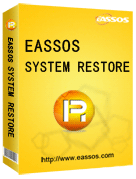 Description:
Eassos System Restore 2.0.3.589 is a useful program with which you can create a backup copy of your operating system, and in case of emergency, restore it. The program is not seemingly overdone, although in English, everything and "hedgehogs there are understandable."
If there are "curious barbarians" working at your computer, who like to poke their nose where you do not need to, then you can free up the backup to be created, in case of unwanted recovery. Well, it does not matter what can happen.
The program contains a built-in wizard, with which the process of creating a backup is minimized, and the speed of creating the copy itself will take a very short time. This application also supports the creation of an incremental backup, i.e. only new or changed files will be added, which again will shorten the
running time. There is nothing more to say, safe work for you.

Developer: Eassos Ltd
License: ShareWare
English language
The size: 25.1 MB
OS: Windows

How to Install:
1). Instructions are included in ReadMe.txt if needed.
2). Thats all, Done & enjoy.

#Shoemaker -> To avoid fakes, ALWAYS check that the torrent was added on stuffalansimpsonsays.com by Shoemaker
http://stuffalansimpsonsays.com/